Hotel Dina on Paros island, is a small, quiet and spotlessly clean hotel, run by local lady Ms. Dina, who welcomes guests and makes everyone feel at home.
Hotel Dina is situated at the prettiest street of the old town of Parikia, at a small historic square surrounded by historical sights: the blue domed chapel of Agia Triada, a masterpiece of the post-byzantine Cycladic architecture, and the 18th century marble fountain of Nikolaos Mavrogenis – the Parian sovereign of Moldovlachia (today's Moldova).
This small hotel has a total of 8 rooms, all situated on the first floor. Three of them look out to the the chapel of Agia Triada and the pedestrian Market Street, one of them has view to the chapel of Evangelistria and the rest to a pine tree garden.
The hotel is located 200m. from the main port, the bus and taxi stations and 5km. from Paros airport. 50m. down the road there's the scenic seafront road of Parikia with a variety of restaurants, cafes, bars and the pretty, sandy beach of Zoodochos Pigi with clean waters.
Entering this small hotel, guests are carried away by its simple, Cycladic beauty and the sense of warm hospitality, and many return again and again.
Hotel Dina is an ideal place for a quite and comfortable stay on the island of Paros.
Unforgettable holidays on Paros!
Location
A special hotel in the heart of the traditional settlement of Parikia, Paros, at a magical spot that will take you back to another era.
Cleanliness
Hotel Dina is sparkling clean, under the personal supervision of Ms. Dina, the way only local housewives know!
Quietness
Despite its super-central location, the hotel is very quiet and it's offered for relaxation and a nice stay on Paros.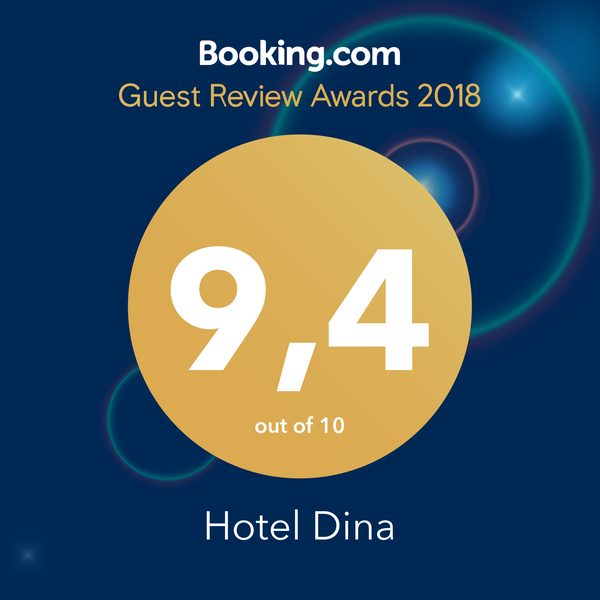 Double, Twin and Triple rooms with view to the traditional settlement of Parikia.
Hotel Dina has a total of 8 rooms all set on the first floor, with double or single beds and big windows that look out to various spots of the old town: the central Market Street, the chapel of Agia Triada, the chapel of Evangelistria or to a nice garden with aged pine trees. Two of the rooms have their own balcony. All rooms are equipped with air-conditioning, TV, fridge, WiFi, electric kettle, safe box, hypoallergenic pillows and more…
One of the first hotels on the island
The hotel is an old, restored mansion, which first operated in 1937 under the name 'Cairo Hotel'. In the post-war era, it was re-named after the owner, to 'Hotel Dina'. It was last refurbished in 2015.